Pop-up retail stores, restaurants and events promise numerous benefits. They can be less expensive and more flexible to operate than traditional brick-and-mortar operations. And they may appeal to consumers who crave fun, memorable events. They're also great for seasonal retailers and online boutiques that want to expand or unload inventory.
But will the here-today, gone-tomorrow trend last? Here's what you should know before opening or investing in a pop-up shop.
Reinventing Pop-Ups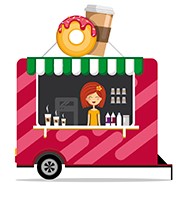 The concept of pop-ups has been around for decades. Think of ice cream trucks that cruise down suburban streets during the summer. And don't forget costume retailers that drop anchor in vacant strip malls in the fall, and flower kiosks that appear in train stations for forgetful spouses on Valentine's Day.
In the 21st century, however, the pop-up concept has transitioned. It's evolved from a seasonal sales model into a marketing tool to:
Test innovative consumer products and services,
Build awareness for established brands, and
Create buzz about trendy consumer "experiences."
Modern pop-ups — like nightclubs in vacant warehouses, food trucks at local breweries and vintage jewelry displays at boutique hotels — offer fun, lifestyle events that are typically spread via word-of-mouth and social media (rather than radio or print ads). They give people the opportunity to touch, taste or try products and services before making a purchase.
Building Popularity
The pop-up market is currently valued at roughly $50 billion. (See "Pop-Up Stores" below.) And it's expected to continue to grow as Millennials and Generation Z gain even more purchasing power. Younger generations have a different approach to shopping than previous generations. They tend to be more brand loyal, budget-conscious and linked by social media. And these characteristics lend themselves to today's pop-up model.
What makes a pop-up successful? Value drivers for pop-up shops include:
Costs. Countless brick-and-mortar stores have shuttered in recent years, often due to burdensome overhead costs and emerging competition from online stores. Temporary pop-up locations don't require long-term leases, costly build-outs or substantial inventory investments.
Pricing strategy. Often, a pop-up storefront allows customers to physically interact with the merchant or service provider, and then make purchases online. This distribution model requires minimal investment in inventory, which, in turn, helps pop-up merchants charge a lower price than traditional brick-and-mortar stores.
Conversely, the novelty of a pop-up concept may enable a merchant to charge a premium price. With a limited supply of inventory on hand, consumers may be willing to pay extra for impulse purchases at a pop-up location — or to be seen as trendsetters.
Location. It's important for pop-ups to identify their target market and understand its habits and needs. When and where will customers shop? In most cases, pop-ups need a visible space with significant foot traffic. But sometimes, a hidden location can create brand magic. For example, foodies might track a well-known food truck to its latest spot across town using Twitter or Instagram.
To maximize headcount, coordinate your pop-up's appearance based on favorable weather conditions and local events that will be attended by your target market. You also might consider joint venturing with another vendor who offers a complementary product or service. For example, an activewear clothier might share space with a smoothie vendor to help lower lease costs and leverage off each other's customer base.
Downsides of Pop-Ups
There are limits to the value of the pop-up concept — and, like anything trendy, the novelty may eventually wear off. Because it's hard to maintain a creative edge, many pop-up shops are used to test, grow or supplement an existing online or brick-and-mortar business.
Pop-ups also face capacity issues. That is, they're small and can serve a finite number of customers. To fully serve your target market's needs, you may need to open additional pop-up locations or settle down in a permanent location.
Ready to Join the Bandwagon?
If you're interested in opening or starting a pop-up shop, contact your financial advisors to evaluate your business plan, estimate costs and develop pricing strategies. An experienced professional can help you work through the logistics and maximize your venture's potential long-term value.