A federal appeals court upheld a lower court's refusal to temporarily halt sales of Dish Network's Hopper service and a related product, which eliminate commercials before consumers watch recorded television shows. The decision is a victory for ad-skipping services and could have implications for traditional television advertising in the future.
Possible Implications
of the Appeals Court Ruling
Other manufacturers could develop ad-blocking devices because they view theFox case as protection from copyright liability.


The traditional model of free TV with one-size-fits-all advertising could change. For example, Dish Network has stated that instead of eliminating commercials entirely, technology could target ads to individual viewers based on their demographics and viewing habits.


If ad-skipping technology becomes common, broadcasters could charge cable companies and distributors more to air their content -- and the costs could be passed onto consumers.


If viewership and ad revenues decrease further, networks may not be able to produce as many shows.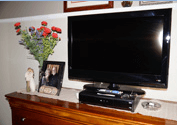 Quirky Commercials from the Company that Eliminates Them
Ironically, the company with products that skip over commercials has some memorable commercials of its own.
Dish Network's Hopper commercials feature multi-generational members of a family with thick Boston accents shouting about "the Hoppah."
Here are a few examples:
Gathered around the TV in the living room, one of the "Boston Guys" explains that they can now record multiple shows at one time. "Congratulations," Grandpa yells. "Now you can start cooking, cleaning, leaving and jogging." One man asks: "I really don't have to leave, do I?" and another responds: "I'm certainly not jogging."


In one 30-second spot, the men are lined up on the couch after a funeral. The screen flashes "In Memoriam - Commercials 1941-2012."


Another commercial shows family members watching their shows on wireless devices around the house. Wherever they sit turns into a recliner, including a kitchen counter, the stairs and a toilet.
Facts of the case: Fox Broadcasting Company and affiliated companies owns the copyright to shows that air on its network. Fox contracts with cable and satellite television service providers that sell its programs, offer them via video on demand or stream them over the internet. Fox's primetime lineup includesGlee, Bones, The Simpsons, Family Guy and other shows.
One distributor that Fox contracts with is Dish Network, the third-largest pay television service provider in the United States.
In March 2012, Dish released the Hopper, a set-top box with digital video recorder and video-on-demand capabilities. The Hopper and related products provide service to multiple televisions in a home, as well as to computers and mobile devices.
In May 2012, Dish started offering a new feature that allows users to automatically skip commercials. "AutoHop" is only available for certain TV shows, typically on the morning after the broadcast.
When users play back a recording with the feature, a pop-up screen appears that allows them to automatically hop over commercial breaks. Once enabled, users don't have to do anything to skip ads.
To create the functionality, Dish technicians manually view programs each night and mark the beginning and ending of each commercial in order to skip over it. They do not delete the commercials and viewers can still see them if they choose.
Fox sued Dish for copyright infringement and breach of contract and sought a preliminary injunction to stop the Hopper's ad-skipping service. In 2012, a U.S. District Court denied the motion and Fox appealed.
On July 24, the U.S. Court of Appeals for the Ninth Circuit ruling stated that to obtain a preliminary injunction, Fox had to demonstrate that:
1. It is likely to succeed on the merits;

2. It is likely to suffer irreparable harm in the absence of preliminary relief;

3. The balance of equities tips in its favor; and

4. An injunction is in the public interest.
The appeals court agreed with the lower court that Fox was not entitled to an injunction because it failed to meet the legal tests to obtain one.
The court added: "As the district court held, commercial-skipping does not implicate Fox's copyright interest because Fox owns the copyrights to the television programs, not to the ads aired in the commercial breaks." (Fox Broadcasting Co. v. Dish Network LLC, 9th U.S. Circuit Court of Appeals, No. 12-57048)
The July 24 ruling is not the end of the story. With the request for a preliminary injunction denied, it means the Hopper can remain on the market. But Fox can move forward with its copyright infringement and breach of contract lawsuit. In addition, Dish faces other lawsuits filed by NBC and CBS and has filed its own lawsuit in federal court against the major television networks seeking a ruling that its commercial-skipping service does not violate copyright.
The outcome of the lawsuits could have long-term repercussions for consumers and the television industry, which relies on advertising to sustain its current model. See the right-hand box for some of the possible implications.